CBD CLINIC Level 5 Ointment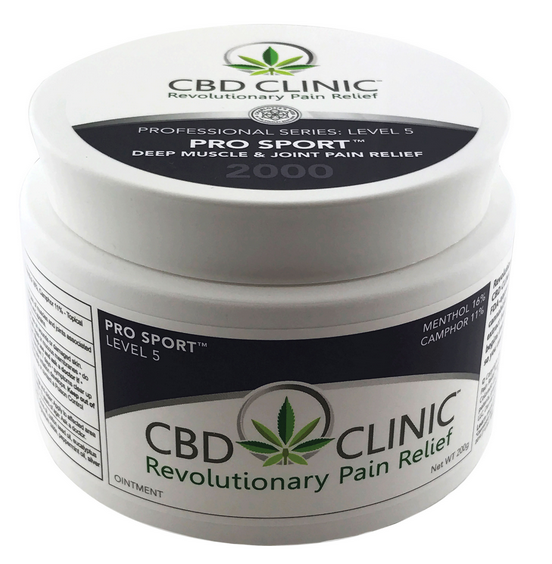 CBD CLINIC Level 5 Ointment
What is our CBD Level 5 – Pro Sport Deep Muscle & Joint Pain Relief Ointment?
At M.I.A The Elite Relaxation Specialists in Canton Texas our CBD Ointment Base has Active Ingredients: 16% Menthol, 11% Camphor. This our number one selling product we carry because it works! Have you ever use BioFreeze? Well this holy grail product works 20Xbetter & doesn't give the intense hot & cold effect. It gets right to work with stopping pain & a little dab goes a long way! If you have chronic pain and looking for relief that you can stand by then add CBD to your appointment! We apply the CBD Ointment with gloves so that you get all the benefits instead of our hands. We place a heaping tablespoon of product in a plastic carry container for you when you leave to use and apply when ever you would like. Trust me you will not regret it!
CBD CLINIC Level 5 ointment delivers two, highest potency pain killers to the most severe of pain areas. It helps restore your range of motion and regain the mobility necessary for top athletic performance. For Joint Pain, Nerve Pain, Muscle Pain, Lower back pain, knee pain, Shoulder pain, Neck pain, etc. Help regain range of motion in the areas necessary for top level sport performance and Flexibility. A perfect pre and post workout solution for hours of relief. Helps to speed recovery for fatigued and painful joints and muscles.
CBD Clinic™ Professional Series
CBD Clinic™ Professional Series topical medications are the first and only non-prescription ointments and creams that combine FDA-approved active ingredients and hemp extract (CBD). Formulated with natural emollients that help the active analgesic ingredients penetrate deep to quickly increase blood flow to joints and muscles and interrupt pain signaling.
Each formula contains three foundational components for supporting rapid and long lasting relief from joint and muscle pain.
Natural Emollients – compared to many other topical analgesic products that use synthetic ingredients as their base such as, benzyl alcohol, cetyl alchhol, glyceryl monosterate etc., CBD Clinic™ uses all-natural emollients that are readily absorbed into the skin. These natural emollients include organic beeswax, jojoba seed oil, cottonseed oil and shea butter.

Powerful Terpenes – aromatic organic hydrocarbons that are found in the essential oils of plants that produce analgesic action in acute and neuropathic pain by decreasing neuronal excitability through peripheral mechanisms. The main terpenes used in CBD Clinic™ Professional Series are Menthol and Camphor. Other terpenes are also combined with menthol and camphor in their products such as Eucalyptus, Tea Tree, Clove, Peppermint and Rich Hemp extract.

Endocannabinoid Modulators – The endocannabinoid system is a group of endogenous cannabinoid receptors located in the mammalian brain, throughout the central and peripheral nervous systems, consisting of neuromodulatory lipids and their receptors which plays a significant role in regulating neurotransmitter function. One receptor that is being actively studied, CB1, is found in spinal and peripheral nervous tissue (including areas important for pain perception). Thanks to early findings published in the British Journal of Pharmacology some terpenes have been identified as having allosteric modulator properties, capable of slowing down neurotransmitter signaling. This helps researchers understand the therapeutic relevance and benefits that some terpenes may have with pain perception and how they can support pain reduction.
***Hydration is very Important before any Elite Relaxation Massage Services or Treatment. It is encouraged to plan in advance when Scheduling a Services to hydrate with WATER a day before the session starts. Water is extremely fundamental in life. We HIGHLY encourage & praise all our clients in taking responsibility for making the healthy choices to always take care of their bodies & souls.
***Rule Of Thumb: tips are not added into the total amount price. 15–20% tip is appropriate. And remember: if the massage is discounted, you should tip 15–20% of the full price, not the discounted price. Depending on how satisfied you are with the Elite Services that is. Please let us know at all if anything could be improve. Check Out the Q&A for more details